Light and Life
From eLADwiki
Introduction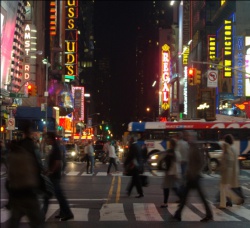 The sun is the center of the solar system and life on earth developed based on the sun as the main energy source. Throughout centuries, the rise and setting of the sun defined periods of rest and activity in all cultures. Only since the 19th century, the availability of electric lighting provided the possibility for independence from natural light.
There are three main processes responsible for the interaction of light with human beings. The visual system enables humans to see and thus to interact with the environment. The circadian photo biological system affects sleep /wake states, alertness, human physiology, mood, behavior, daily patterns of hormone secretion and body temperature cycles.

And the perceptual system relates to the psychological processing of visual information, depending on the individual's culture and expectations.
Due to these interactions, the way day- and electric lighting is used in buildings is always a statement of the designer/owner in order to create a certain visual environment or atmosphere, and it automatically implies non-visual effects.
Especially in working environments, where occupants tend to be the most cost-intensive part of the company's budget, research has been focused on non-visual effects of light, in order to improve the occupant's well being. Results observed a correlation between the provision of daylight and the performance of occupants. Additionally, the presence of sunlight in offices was found to correlate with job satisfaction and general well-being.

Therefore, optimized day- and electric lighting in buildings can result in health benefits as well as increased safety and productivity, and it provides a potential for energy savings.
Section Key Resources
Boyce, P.R., and Rea, M.S. (2001). Lighting and Human Performance II: Beyond Visibility Models Toward a Unified Human Factors Approach to Performance, EPRI, Palo Alto, CA, National Electrical Manufacturers Association, VA, and U.S. Environmental Protection Agency Office of Air and Radiation, DC: 2001. 1006415.
Farley, K.M.J.; Veitch, J.A.: A Room with a View: A Review of the Effects of Windows on Work and Well‐Being, National research Council Canada, IRC‐RR‐136, (2001), http://irc.nrc‐cnrc.gc.ca/ircpubs
Fay, C., (2002), Daylighting and Productivity A Literature Review, Lighting Research Center, Rensselaer Polytechnic Institute, Report of Project "Cross‐Cutting R&D on Adaptive Full‐Spectrum Solar Energy Systems for More Efficient and Affordable Use of Solar Energy in Buildings and Hybrid Photo‐ Bioreactors" sponsored by U.S. Department of Energy.
Galasiu, A.D., Veitch, J.A. (2006): Occupant preferences and satisfaction with the luminous environment and control systems in daylit offices: a literature review, Energy and Buildings 38 (2006), pp. 728‐742
Heschong, L. (2003): Windows and Offices: A Study of Office Worker Performance and the Indoor Environment, Technical Report P500‐03‐082‐A‐9, California Energy Commission
Webb, A.R. (2006): Considerations for lighting in the built environment: non‐visual effects of light, Energy and Buildings, Volume 38, pp:721‐727
Escuyer, S., Fontoynont, M. (2001): Lighting controls: a field study of office workers' reactions, Lighting Research and Technology 33,2, pp. 77‐96
Links
Lead Author(s): Aris Tsangrassoulis
Page Key Resources
No publications general to this page have been listed.
Links
No links general to this page have been listed.
Citations
Except where otherwise noted, content on this site is licensed under a                   
Creative Commons Attribution-ShareAlike 3.0 License